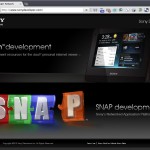 Last week Sony open the doors to a new web site, as well as a new approach for the organization, called Sony Developer . Sony Developer is meant to become a hub for Open Source development efforts for Sony Electronic products.
Currently, Sony has enabled the community for "SNAP" which is an application framework for consumer electronic devices. From the SNAP site;
"SNAP stands for Sony's Networked Application Platform and is part of an emerging new ecosystem for making downloadable applications available to networked devices like TV's, Blu-ray Disk players and other Consumer Electronic products. SNAP is in the very early stages of development and has a lot of room to grow"
This will open an avenue that will allow developers to get their applications onto SNAP enabled devices such as televisions. SNAP is based on the GNUstep community, whose origin dates back to the OpenStep standard developed by NeXT Computer Inc (now Apple Computer Inc.) which also implements the extensions added by Apple in the form of Cocoa. The main language on GNUstep for SNAP is ObjectiveC and the SNAP development web site points a lot of great resources on ObjectC from beginners guide to optimization.
Sony offers a guides and a SDK for download to start with your development efforts. It's mentioned on the SNAP web site that some good examples of applications would be "Games, Widgets (weather, news, traffic, etc), remote controls, social apps, media sharing apps, media players, home automation". Also according to the web site Sony will be hosting contest in the future for SNAP developers with prizes ranging from Sony televisions to Sony Walkman.
Another section of the Sony Developer Web site will be the dash section, which is currently unavailable but from what I've heard should be opened in the coming weeks. dash is the Sony new Personal Internet Viewer. Developed with Flex, Sony is hoping to encourage and foster application developed on the dash product.